General Information
Property covers 2,267 ha (48 claims) and is held in partnership between Harfang (40%), Kenorland Minerals (40%), and Troilus Gold Corporation (20%) (33N02); five claims subjected to a 1% NSR shared between Geotest Corporation and Wayne Holmstead; no NSR on other claims
Located in Nunavik (Québec) some 55 km east of Kuujjuarapik and 160 km north of Radisson; majority of claims inside Category II Lands
Accessible by air transportation (helicopter or floatplane)
Northwestern portion of the Great Whale Archean greenstone belt (Bienville Subprovince, Superior Province); mainly composed of basalts and clastic and banded iron formation (orthochemical) sedimentary rocks (Fagnant Group); minor peridotite, gabbro and felsic volcanic and intrusive rocks; greenschist to amphibolite facies; near the Great Whale iron deposit (538 Mt @ 36.7% Fe, resources non-compliant with NI 43-101)
Belt divided into two branches made up of abundant basaltic rocks; the eastern volcanic band appears relatively fresh and undeformed whereas the western one is variably affected by regional deformation ranging from slightly schistosed to highly sheared; structural pattern suggests polyphased deformation of the belt; known gold occurrences are more dominant in the western band
Host rock commonly corresponds to schistosed basalts with alteration minerals such as biotite, sericite, muscovite, quartz, amphibole, chlorite, garnet and rare andalusite; sulphides include disseminated pyrite and/or arsenopyrite with minor pyrrhotite and chalcopyrite
Historical exploration work was limited to prospecting, geological mapping, an airborne Mag-EM survey and a localized IP-resistivity survey
No drilling has ever been done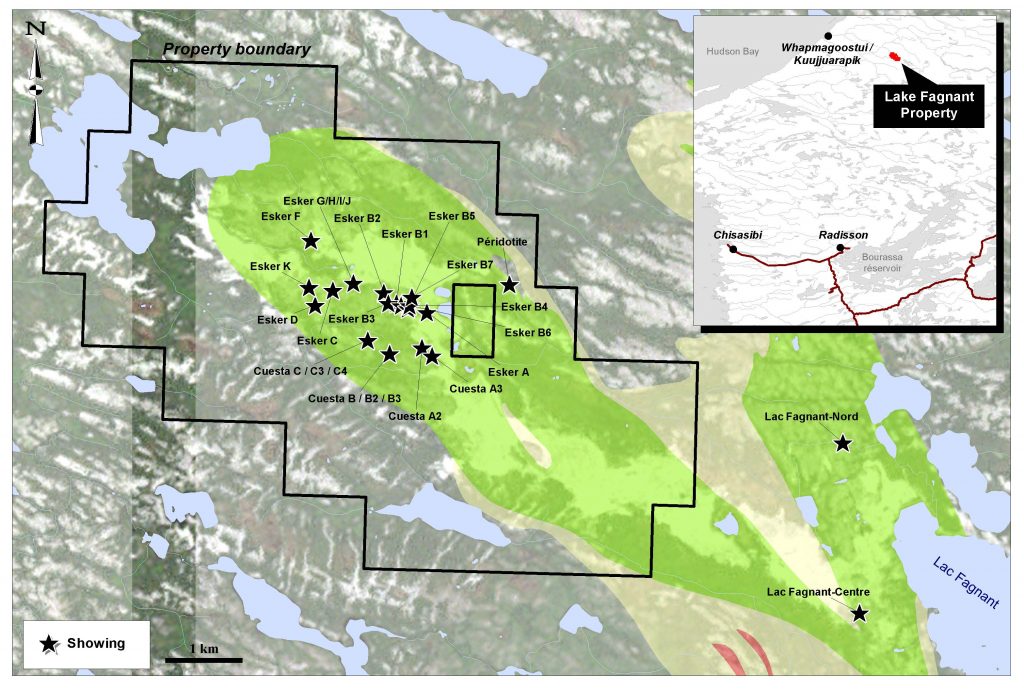 Figure 1. Geological map of the Lake Fagnant area and its surroundings. Inset: Location of the Lake Fagnant Property approximately 55 km east of Kuujjuarapik. Geology modified from Sabourin (1961).
Highlights
More than 30 gold showings; best samples returned between 1.07 and 47.03 g/t Au over submetric widths except for an interval grading 3.66 g/t Au over 8.8 m (Esker A showing); most occurrences categorized as mesothermal alteration zones; other mineralization styles include quartz-sulphide and polymetallic veins
Gold occurrences are mainly aligned along 2 NW-SE corridors (Esker and Cuesta) extending at least 1 km in length and up to 100 m in thickness each; the Esker corridor corresponds to a base metal trend (strong Au-Pb correlation, ±Ag-As-Cu-Zn-Sb-Cd); the Cuesta corridor corresponds to an Au-As and an Au only dominated trend; an Au-Cu association exists for samples collected west of these corridors
Geophysical surveys detected anomalies that need a follow-up either by mechanical trenching or drilling
Complex folding and structural lineaments mapped on the field and interpreted from the magnetic signature together with Fe-rich rocks such as iron formations and basalts represent, respectively, physical and chemical traps for gold precipitation
Career opportunities
Harfang is looking for two project geologists.