General Information
LaSalle's Selbaie Property was acquired by map staking to cover the southeastern contact of the Brouillan Batholith. The property includes 8 claims, 100% held by LaSalle in the northern Abitibi greenstone belt (Abitibi) located 12 kilometers east of the historic Selbaie Mine
DETAILS
The Selbaie Cu-Zn-Au-Ag deposit is located within the western pressure shadow of and along the southwest flank of the Brouillan intrusive, a central intrusion/resurgent dome complex. The Selbaie mine was operated by Billiton until 2004 and had a mining resource of 57 Mt composed of VMS type containing approximately 1 Moz Au (not a 43-101 compliant disclosure) considered to represent a sub-type volcanic associated sulphide deposit and epithermal vein and breccia-type mineralization associated with strong potassic alteration (porphyry Cu style). Drill targets will primarily focus on IP anomalies along interpreted northeast and northwest structures as the ones controlling the B-14 mineralization 700 m south of our property. In 2013, Excellon reported visible gold and drilling results within the B14 Zone of:
︎5.43 g/t Au over 8.00 m (4.12 g/t cut to 34 g/t) and 5.49 g/t Au over 5.07 m (3.28 g/t cut to 34 g/t) in BE13-042;
︎3.03 g/t Au over 11.10 m in BE13-045, including 4.25 g/tAu over 6.00 m;
︎45.9 g/t Au over 6.83 m, including 224 g/t Au over 1.23 m in BE13-038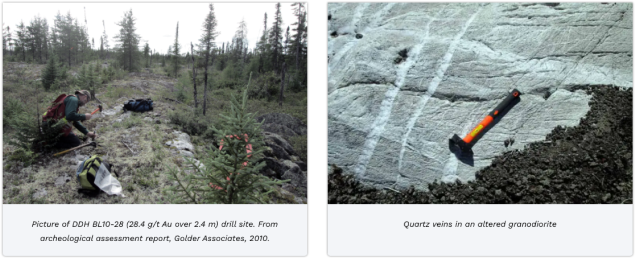 Career opportunities
Harfang is looking for two project geologists.