General Information
Property covers 50,843 hectares (988 claims) and is 100% held by Harfang (33F02, 33F03, 33F06); 2% NSR to Sunridge Capital Corp and 2% to Gilbert Lamothe on 86 claims
Located 80 km southeast of Radisson and 60 km from the La Grande airport; adjacent to the Billy-Diamond paved road; 2 powerlines transect the property
Accessible by ground and air transportation, and by boat from Lake Sakami
The eastern limit of the property is next to the LaPointe Gold Deposit (Quebec Precious Metals Corporation)
Project located in an under-explored area outside known greenstone belts; near the contact between the La Grande and Opinaca subprovinces
Geology dominated by the Langelier Complex (Archean tonalitic basement) and the Duncan Intrusions with discontinuous slivers of volcano-sedimentary rocks (Yasinski Group and Apple Formation) and late intrusions of the Vieux Comptoir Granitic Suite
Gold is hosted in quartz veins, shear zones and/or altered facies in a differentiated mafic-intermediate intrusion (Mascha Intrusion) and in mafic to ultramafic dykes metamorphosed to the upper greenschist to lower amphibolite facies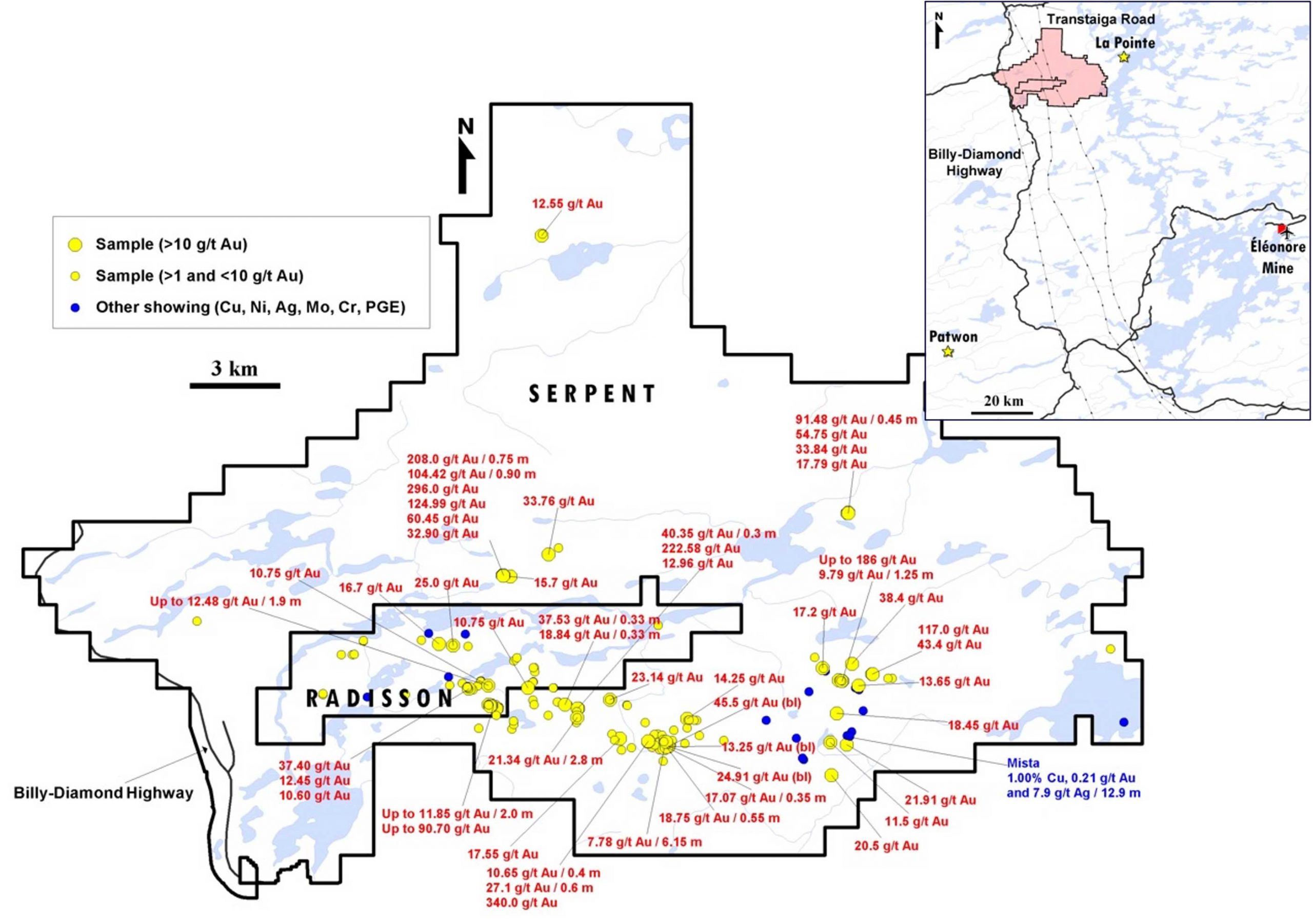 Figure 1. Location of gold showings on the Serpent and Radisson properties. Gold grades refer to grab and channel samples with >10 g/t Au.
Highlights
Discovery of more than 50 orogenic gold and intrusion-related Cu-Au-Ag±Bi±Te mineralized occurrences
Gold-rich occurrences in shear zones and quartz veins in mafic and intermediate intrusive rocks (eg. 7.78 g/t Au over 6.15 m [channel, Moby-Dick], up to 186 g/t Au and 200 g/t Ag [grab]
Mista Cu-Au-Ag±Bi±Te prospect defined over at least 350 m strike length, up to 1.00% Cu, 0.21 g/t Au and 7.9 g/t Ag over 12.9 m
Structural gold-bearing corridor at least 18 km long defined by a series of WNW-ESE and NE-SW shear zones
Gold-in-till anomaly covering >8 km2  
Till samples with high gold (up to 432 grains) and scheelite grain counts, high ratio of pristine grains suggests proximal bedrock source
Drill tested (70 holes, 14,950 m) confirms gold intervals up-ice of the gold-in-till anomaly and under surface showings
Some of the best intervals: 4.09 g/t Au over 8.00 m [SER-21-029], 4.33 g/t Au over 7.00 m [SER-21-035], 1.64 g/t Au over 22.40 m [LSR-21-001, Goldhawk]
Upcoming Exploration Programs
Winter 2023: Additional drilling following the completed merge of the database of the former Serpent and Radisson projects
Career opportunities
Harfang is looking for two project geologists.